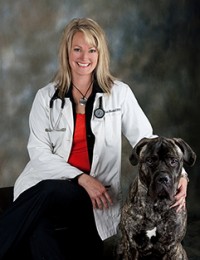 Dr. Kirsten Marshall graduated from Michigan State University's College of Veterinary Medicine in 1993. She has practiced in the Grand Rapids area for her entire career. Dr. Marshall and Dr. Witthoft established Bridges Animal Hospital in 2010 to provide family centered veterinary medical care.
When she is not practicing medicine, Dr. Marshall is an avid runner. She and her husband have three children. They share their home with Fyn the Lab, Mr. Blacki the cat, Daisy the bunny, and a flock of chickens.
The doctors have a weekly radio show, THE PET FILES, which can be heard Sundays on Wood Radio 1300. Dr. Marshall appears on FOX 17 Morning News as well as GVSU Ask The Vet program.