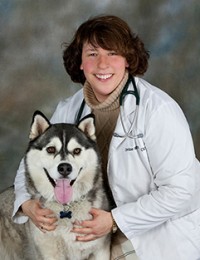 Dr. Denise Witthoft graduated from Michigan State University's College of Veterinary Medicine in 1995. While she started her career in Wisconsin, she has lived and worked in the Grand Rapids area for the past 10 years.
When not at the practice, Dr. Witthoft enjoys hiking with her Husky, Giles. She is a passionate Michigan State sports fan and also enjoys foreign travel.
Both doctors journeyed to the land of Starbucks in Seattle last July and also took in a veterinary conference. They are committed to continuing education and the search for the perfect cup of joe.