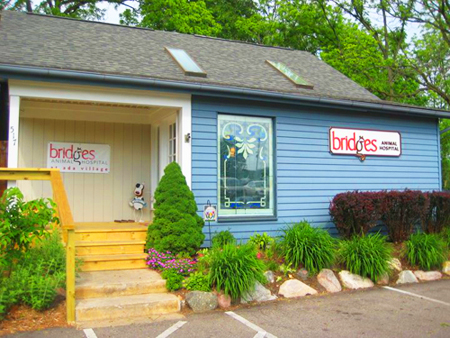 What We do
At Bridges Animal Hospital at Ada Village, we strive to provide the best medical and surgical care possible in our area. With our excellent routine medical and diagnostics capabilities we offer unique and thorough care for your pet in sickness and in health.
Our Philosophy
Established in 2010 to provide family centered veterinary medicine, we have a professional, compassionate and knowledgeable staff that treats your pets the way we treat our own, like family. Through technological advancement and implementing the foremost medical practices, we are able to educate and involve each client in a lifetime health care plan for their special companions.
Quality Care and Service
Some of our services include: immunization and wellness care, internal medicine, junior and senior wellness, dental cleaning and care, nutritional counseling, behavior medicine, in-house pharmacy, online pharmacy and home delivery, dermatology, elective surgery, radiology, chemotherapy, pain management and hospice care.
We Want You to Know
We work hard to maintain an excellent staff of doctors, technicians and receptionists. All of our staff cares deeply about our patients and continues to supplement their education in order to offer a wealth of knowledge and experience in the care of your pets.
Please call 616-682-5005 for more information on our services!